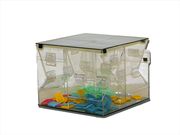 TidyLab is a line of products from Hacker Instruments & Industries Inc. Founded in 1942, Hacker is an family owned and operated small business located in Winnsboro, South Carolina. All TidyLab products are made in the U.S.A.

The TidyLabStore is a new way of doing business for us – if there is something you need that the website is not offering you, please call us at 1-800-4-HACKER and we'll do our best to get it done for you.

TidyLab welcomes customer input into our products – most of our products have been developed based on the specific needs of our customers.

If you cannot find a product you're looking for, give us a call or send us an and we'll be happy to do our best to get you what you need. If you're setting up or redesigning a lab, we can work out a package and deal to best suit your needs.

The TidyLabStore and Hacker Instruments looks forward to working with you.
For TidyLab information and inquires, please write to us at info@tidylabstore.com or call us at 1-800-442-2537 (Monday thru Friday, 9-5 E.S.T)
For information on Hacker Instruments & Industries products and services, please visit us at: www.hackerinstruments.com, write us at: HACKERLAB@AOL.COM, or call us at: 1-800-4-HACKER (Monday thru Friday, 9-5 E.S.T)
Hacker Instruments & Industries Inc.
1132 Kincaid Bridge Road
P.O. Box 1176
Winnsboro, SC 29180
info@tidylabstore.com
Many units are manufactured to order: please allow 1-2 weeks for delivery, depending on quantity of order.

Please call 1-800-442-2537 for multi-unit discounts on purchases of 10 or more items.